Working with secutex
Secutex is easily adaptable to site conditions. Offers maximum flexibilit and simple installation by bonding.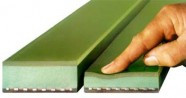 EASY TO WORK WITH
It is just one of the material's characteristics. As all other PUR products, secutex also experiences a volume reduction of 1-3 % during processing. secutex castings comply with the tolerances of M3 DIN 7715. Casting elements can be optimised in order to obtain accurate results. Our CNC-controlled processing machines also allow an extremely accurate mechanical tolerance.
MILLING



Use standard milling cutters with a low number of teeth.
Important! Peripheral speed approx. 200-400 m/min, clearance angle α 10°, effective cutting angle γ 25°. It is recommended to use a drilling emulsion for preparing the surface and cooling.
CUTTING AND SAWING


Want to cut or saw secutex yourself? Just ensure that blades are extra sharp for cutting secutex. A band saw can be used to saw the secutex material. Due to the excellent abrasion properties, the material attempts to withstand or evade the cutting tool. Ensure a low wedge angle and adapt the cutting speed, where necessary.
CHISELLING

Knife-like implements as used for woodworking are best suited for this purpose.
Important! The tool angle should be 15°. It is recommended to use a drilling emulsion for preparing the surface and cooling.


DRILLING AND THREAD CUTTING

No special tools are required. Normal wood and metal drills suffice.
Important! Cutting speed approx. 40 m/min., advance approx. 0.01-0.03 mm/rev. In the case of low shore hardness, secutex can evade the tool. The hole could therefore be up to 5 % smaller.
TURNING

For this purpose, standard SS turning chisels can be used (tool angle 12°, β = 53°, γ = 25°).
Important! Cutting speed approx. 300- 500 m/min, hardness < 80° Shore A, 100-200 m/min, hardness < 90° Shore A. Advancing speed approx. 0.1-0.2 mm/U. It is recommended to use a drilling emulsion for preparing the surface and cooling. The harder the secutex material, the better the surface quality. For finishing, the use of a belt grinder is recommended.

GRINDING AND ROUGHENING

secutex can be easily ground with grinding machines or belt grinders (standard grain size or ceramic bonding).
Important! Grinding speed of approx. 30-50 m/sec. Wet grinding is recommended. Note: a wire brush can also be used for roughening.
SECUTEX - SERVICE



Holes, stepped holes and threads are already included during production in accordance with customer requirements and stipulated exact dimensions. Stamping work can also be carried out.
You can find more information in the catalog.