Laser machine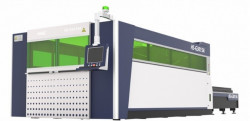 As Uniman s.r.o., we are proud of our domestic and international trading spirit. Our products have its grasp on domestic and foreign markets and have a very good repute. With our new investment, we are adding another chapter to our general work. We are pleased to announce that we invested in a new laser machine (HSG HS-G3015A) and is currently in function. The new laser machine enables us to work faster, more accurate, more efficient and delivers greater quality. We believe that we are taking the next step in the development of our company. Furthermore, we would like to express our gratitude towards you as a partner by investing in new machines at our premises in order to provide you with better quality products.
In the attached Word-document you can find the technical specifications of our new laser machine. At the same time, we are currently exploring other possibilities to invest in new machines at our production site. We will provide you with another update as soon as we have more information.
We hope to be of even better service as a result of our new investment.