Fork protection
Secutex® products for fork lift trucks offer maximum functionality and security, exceeding by far the requirements of DIN and EN Regulations. By using secutex® products you reduce your risks and increase safety and reliability – advantages that will also reflect in your costs.
You can find more information about types of this secutex at the bottom of this page in catalog.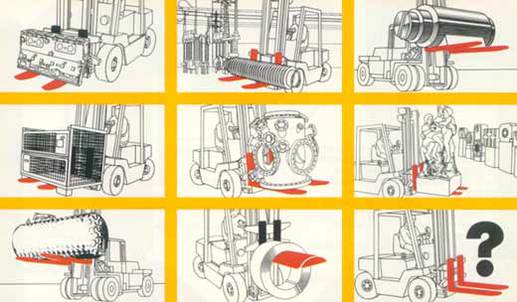 Type SZ-S - Standart type
The standard shoe is designed for a flexible operation. The shoe offers simple and quick handling and is ideally suited for most applications. The secutex® fork shoe does not have a load-bearing function. Also available in stainless steel – particularly for the food industry.
| | |
| --- | --- |
| Coating | 15 mm |
| Weight | 80 - 300 mm |
| Lenght | max. 2200 mm |

Type SZ-SS - Heavy-duty type
Specially developed heavy-duty fork shoe. Sturdy sectional steel design, particularly suited for continuous extreme operation.
| | |
| --- | --- |
| Coating | 15 mm |
| Weight | 80 - 300 mm |
| Lenght | max. 2200 mm |

Type SZ-G - Fabric type
The fabric design is extremely light and specially designed for a flexible application. The fabric fork shoe can also be easily rolled up for transportation.

Type SZ-RM - Pipe module
Optimal protection for delicate, round loads. Extremely hard wearing, anti-slip surface and easily exchangeable. Just slide onto existing mandrel and secure with end cap. The individual sections can rotate freely to accommodate any movement of the load and reduce wear.
| | |
| --- | --- |
| Coating | 20 mm |
| Weight | 60 - 500 mm |

Type SZ-COIL- Fork coil shoe
The secutex® coil shoe allows safe and reliable transportation of metal and wire coils. The radius of the support surface is adapted exactly to the internal coil diameter, thus reliably preventing the material from being damaged. The high friction of the secutex® coating ensures a safe hold of the coil, making it nearly impossible for the coil to slip off. The chamfered tip allows easy driving into the coil.

Type SZ-GVO - Standard design, open underneath
Ideal fork extensions with low inherent weight. secutex® coating available as per requirements. On the top coating, the perforated panel protects the secutex® coating. The thickness and width of the fork extensions depend on the fork width, fork thickness and load capacity.